October 29, 2020
Sirisha Gummaregula, Named as an Honoree in WIPL Awards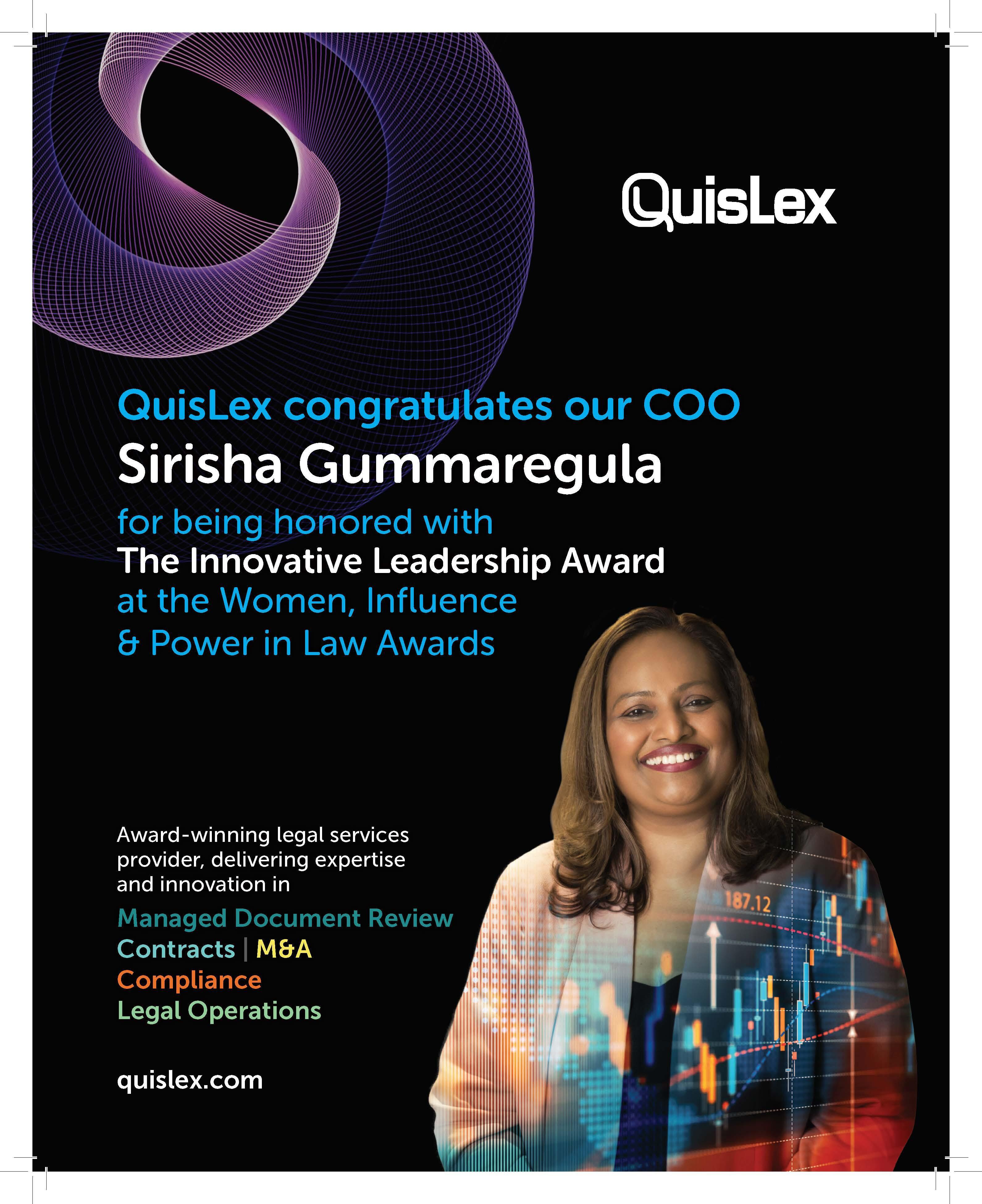 Gummaregula honored in the Innovative Leadership category
October 28, 2020 – QuisLex, a leading alternative legal service provider long recognized as a pioneer in the industry, announced today that Sirisha Gummaregula, QuisLex chief operating officer, has been selected by Corporate Counsel as an honoree in the 2020 Women, Influence & Power in Law Awards in the Leadership Awards: Innovative Leadership category.
 The honorees were announced at Corporate Counsel's Women, Influence & Power in Law Forum virtual awards event today.
The Women, Influence & Power in Law Awards 2020 (formerly known as the National Women in Law Awards) honors top women lawyers who have made a remarkable difference in the legal profession – whether in shaping the law, achieving outsize results for their clients, being an outstanding jurist or assisting those in need of legal services.
Each year this event brings together firm leaders, star dealmakers, winning trial lawyers and in-house counsel on the cutting edge, along with thought leaders from government and academia.
The Innovative Leaders category honors women who are looked at as the ones impacting change and developing new strategies for better solutions.
"My focus is and always has been using a data-driven, silo-busting approach to solve our clients' most pressing issues. Being recognized for that is very gratifying, and I am deeply humbled and honored," shares Gummaregula.
"We are proud and fortunate to have Sirisha as part of our leadership team," says Joe Polizzotto, senior VP of strategy and client services at QuisLex. "This award confirms what we've always known: Sirisha's ability to impart advice, lead experts and design and implement tech-enabled and process-based solutions is exceptional."
 Learn more about this year's virtual Women, Influence & Power in Law Awards by clicking here.
 About QuisLex
QuisLex is an award-winning legal services provider that specializes in managed document review, contract management, compliance services, legal spend management and legal operations consulting. Our full-time highly trained attorneys, process experts, legal technologists, statisticians and linguists work closely with our clients to reduce costs, mitigate risk and maximize efficiency. QuisLex is regularly acknowledged as a leader in the legal services industry and proud to be recognized by the Financial Times as an FT Intelligent Business 35, Association of Corporate Counsel as an ACC Value Champion, Chambers and Partners as a Band 1 Legal Process Outsourcing Provider, New York Law Journal as a Top Managed Document Review Services Provider and the IACCM as its Outstanding Service Provider for contract management solutions. To learn more, visit http://www.quislex.com.