January 16, 2020 in Events
QuisLex to Sponsor 3rd Annual CLOC 2020 London Institute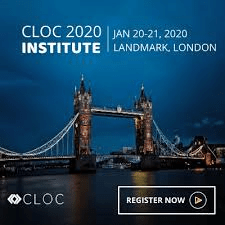 QuisLex is a Diamond-level exhibitor at this year's institute, being held January 20-21, 2020, at The Landmark London
January 15, 2020 - QuisLex is delighted to be sponsoring the CLOC 2020 London Institute. The CLOC London Institute is an educational event that draws on the personal and collective strengths of practicing in-house legal operations professionals. QuisLex is a Diamond-level exhibitor at this year's institute, being held January 20-21, 2020, at The Landmark London.
Corporate Legal Operations Consortium is a 501(c)6 nonprofit association with the mission to help legal operations professionals and others in the corporate legal industry optimize the legal service delivery models required to support the needs of small, medium and large legal departments. CLOC helps drive the evolution of legal operations through its members, law firm participants and partners. CLOC Institutes are the largest global conferences focused for the legal operations professional and legal ecosystem.
The CLOC 2020 London Institute offers sessions of focused education and actionable knowledge from practicing legal operations professionals, along with networking events for attendees to connect with legal operations colleagues and exchange best practices. Also contributing are CLOC vendor partners and sponsors, which will share the latest trends in technology and new solutions.
QuisLex is proud to be a continuing sponsor and exhibitor at CLOC Institute events held in the U.S. and the U.K.
About QuisLex
QuisLex is an award-winning managed legal services provider that specializes in managed document review, contract management, compliance services, legal spend management and legal operations consulting. Our full-time highly trained attorneys, process experts, legal technologists, statisticians and linguists work closely with our clients to reduce cost, mitigate risk and maximize efficiency. QuisLex is regularly acknowledged as a leader in the legal services industry and proud to be recognized by the Financial Times as an FT Intelligent Business 35, ACC as an ACC Value Champion, Chambers and Partners as a Band 1 Legal Process Outsourcing Provider, New York Law Journal as a Top Managed Document Review Services Provider and the IACCM as its Outstanding Service Provider for contract management solutions. To learn more, visit http://www.quislex.com.