June 05, 2018 in Awards & Recognition
QuisLex, with its Client Ocwen Financial Corporation and their Counsel Hunton and Orrick, Selected as ACC Value Champions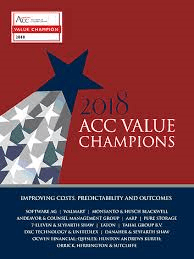 The Association of Corporate Counsel selected these organizations for delivering a large-scale AI-enabled due diligence project at a fraction of the typical time and cost.
April 5, 2018 – QuisLex, a leading legal services provider, announced today that it is part of a team that has been selected by the Association of Corporate Counsel as a 2018 Value Champion together with its client Ocwen Financial Corporation and their counsel Hunton Andrews Kurth and Orrick, Herrington & Sutcliffe. The team was recognized for its work re-engineering Ocwen Financial Corporation's due diligence delivery model. Working with Ocwen, Hunton and Orrick, QuisLex built an Artificial Intelligence (AI) based technology-enabled process that defines roles for each of Ocwen's in-house and external legal teams to fit the unique value they bring to a specific project.
QuisLex coordinated a team of 200 across four organizations to deliver significant cost savings, complete the project in record time, and create a database that Ocwen's business and legal teams use regularly now for other purposes. "That discipline of capturing data and re-using it is a huge driver for many of QuisLex's clients," said Sirisha Gummaregula, QuisLex's chief operating officer. "The data analytics becomes business intelligence, which enables negotiation at a holistic level rather than a transactional one, and gives clients greater leverage."
The ACC Value Challenge, launched in 2008, has provided resources and training for in-house counsel and law firm lawyers to help effect change within the legal industry. By re-aligning relationships and promoting value-based fee arrangements and other management tactics, such as project management, process improvement, efficient use of technology and knowledge management tools, the market for the delivery of legal services benefits from the same insights and wisdom upon which every other service industry relies to provide world-class value to their clients.
For more details about this award-winning project, click here.
About QuisLex
QuisLex is an award-winning legal services provider that specializes in managed document review, contract management, compliance services, legal spend management, and legal operations consulting. Our full-time highly trained attorneys, process experts, legal technologists, statisticians and linguists work closely with our clients to reduce cost, mitigate risk and maximize efficiency. QuisLex is regularly acknowledged as a leader in the legal services industry, and is proud to be recognized by the Financial Times as an FT Intelligent Business 35, ACC as an ACC Value Champion, Chambers and Partners as a Band 1 Legal Process Outsourcing Provider, New York Law Journal as a Top Managed Document Review Services Provider, and the IACCM as its Outstanding Service Provider for contract management solutions.