November 10, 2020
QuisLex to Exhibit at Upcoming 2020 CLOC Global Institute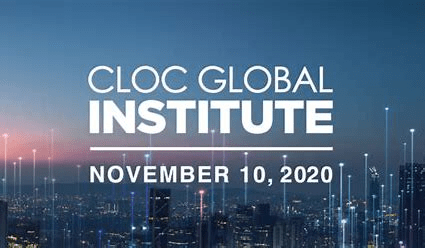 Event sponsorship demonstrates company's ongoing commitment to supporting legal operations organizations
November 09, 2020 -QuisLex, a leading alternative legal service provider long recognized as a pioneer in the industry, is pleased to announce its gold-level sponsorship of the 2020 CLOC Global Institute being held online November 10. The virtual event promises to bring together the most innovative and disruptive legal professionals from around the world for more than 50 live and on-demand educational sessions, plenaries, roundtables and meetups.
Corporate Legal Operations Consortium is a global community of experts focused on redefining the business of law. By helping legal operations professionals collaborate with each other and other industry players including law firms, technology providers and law schools, CLOC works to help set industry standards and practices for the profession.
QuisLex is one of more than 40 exhibitors at the 2020 Global Institute that will be showcasing the latest trends and technology contributing to the evolution of legal operations.
"QuisLex was among the early supporters of CLOC and continues to support its mission to redefine the business of law and make the legal value chain more inclusive, transparent and responsive through information sharing, collaboration and innovation," says Ram Vasudevan, CEO of QuisLex. "We remain proud to be a continuing sponsor and exhibitor at CLOC Institute events."
Registration for the 2020 Global Institute is now open here.
About QuisLex
QuisLex is an award-winning legal services provider that specializes in managed document review, contract management, compliance services, legal spend management and legal operations consulting. Our full-time highly trained attorneys, process experts, legal technologists, statisticians and linguists work closely with our clients to reduce costs, mitigate risk and maximize efficiency. QuisLex is regularly acknowledged as a leader in the legal services industry and proud to be recognized by the Financial Times as an FT Intelligent Business 35, Association of Corporate Counsel as an ACC Value Champion, Chambers and Partners as a Band 1 Legal Process Outsourcing Provider, New York Law Journal as a Top Managed Document Review Services Provider and the IACCM as its Outstanding Service Provider for contract management solutions. To learn more, visit http://www.quislex.com.