March 25, 2019 in Thought Leadership
QuisLex Executives to Present "Lunch & Learn" Session on Managing Today's Compliance Challenges at SIFMA C&L Annual Seminar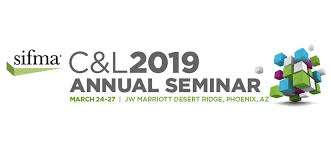 QuisLex is proud to support SIFMA as a Presidential Sponsor of its 51st Annual Compliance and Legal Seminar
March 25, 2019 – QuisLex, a leading alternative legal service provider, announced today that it will host a "Lunch & Learn" panel discussion at SIFMA's 2019 Compliance & Legal Annual Seminar. QuisLex's Senior Vice President Joseph Polizzotto and Associate Vice President of Corporate Solutions Chase D'Agostino will be joined by Mark Harris, Global Head of Regulatory Compliance, Global Markets, at HSBC and Angie Karna, Managing Director, Legal, at Nomura Securities, Inc., in a session titled "Managing Today's Compliance Challenges." The session will provide insight into approaches taken by leading financial institutions to build and effectively manage their programs.
The panelists will focus on five themes related to compliance: The steps to take before kicking off a project to set yourself up for success; where technology can be effectively used to automate tasks; how to build the right cross-functional teams to deploy on the right tasks; tips for gaining buy-in to your plan across the organization; and how things like prioritization and consolidation of outreaches can drive savings and ensure timelines are met.
"For more than 50 years, SIFMA's C&L Annual Seminar has enabled compliance and legal professionals in the financial services industry to engage and discuss regulatory issues with industry-leading experts," says Polizzotto, who is also the former General Counsel – Americas at Deutsche Bank. "As companies across industries try to comply with increasingly complex and new regulations and requirements globally—particularly in the data privacy and security space—I look forward to discussing and highlighting new and innovative approaches with my colleagues on the panel."
For the third consecutive year, QuisLex is a Presidential Sponsor of the Annual Seminar, which is the premier event for compliance and legal professionals working in the financial services industry. Now in its 51st year, the 2019 Annual Seminar provides a unique opportunity for industry leaders and regulators to gather for three days of information sharing, collaboration and networking.
The event will be held at the JW Marriott Desert Ridge in Phoenix from March 24–27, 2019. Learn more at https://www.sifma.org/event/clannual/.
About QuisLex
QuisLex is an award-winning legal services provider that specializes in managed document review, contract management, compliance services, legal spend management, and legal operations consulting. Our full-time highly trained attorneys, process experts, legal technologists, statisticians and linguists work closely with our clients to reduce cost, mitigate risk and maximize efficiency. QuisLex is regularly acknowledged as a leader in the legal services industry, and is proud to be recognized by the Financial Times as an FT Intelligent Business 35, ACC as an ACC Value Champion, Chambers and Partners as a Band 1 Legal Process Outsourcing Provider, New York Law Journal as a Top Managed Document Review Services Provider, and the IACCM as its Outstanding Service Provider for contract management solutions.